SRBC Community Ministry Center Update
Now available through PayPal, you may use online giving as an option for gifts to Scranton Road Bible Church. You can choose to make contributions one time or on a recurring schedule. If you have a PayPal account you may also choose to transfer money securely from your bank account.
Scranton Road Bible Church pays some fees for the convenience of having online transactions (2.2% + $.30 transaction fee for credit and debit cards).
We encourage you to take a no fee route whenever possible when you give by writing a check, setting up your own PayPal account to transfer funds securely online from your bank account, or making your contribution directly through your bank's automated bill paying service (automated clearinghouse transaction commonly called ACH). There is typically no fee associated with this type of transaction.
No matter how you choose to give, thank you and God bless!  Phillipians 4:15-19
---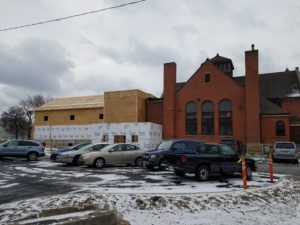 DECEMBER 10, 2017 CONSTRUCTION UPDATE
The SRBC Community Ministry Center construction is making good progress!   In the next couple of weeks, significant work will be completed on the roof, HVAC, plumbing and electrical.  By mid/late January, the insulation and drywall will be installed.
The facility should be complete by early May, at which time we transition all operations over while the current church facility undergoes an extensive "refresh".
Financial Update:
Total Expense:  Construction:  $2,686,255
Less: Expenses Paid for Project-to-Date:  ($1,129,255)
Remaining Balance:  $1,557,000
Total in Building Fund and Pledges: $1,349,604
Total Balance to Raise:  $207,396
---
Newsletter
September 2017
On May 21, 2017 we celebrated the official groundbreaking of the SRBC Community Ministry Center. It was overwhelming to see so many current and former church members and friends come out and support this endeavor. I think of you all often and it meant a lot to me to see the various people the church has touched, so for those of you who were able to attend, thank you! You are what made the day special.
To get you up to speed on what's been happening since our last letter went out in April, here are some key points:
Demolition of an adjacent home owned by the church and initial excavation for the new building began in May.
Due to negotiations with the City of Cleveland regarding permits and changes to the initial plans, construction stalled briefly, these changes increased costs by about $350,000.
We are continuing forward in faith that God already knew this would happen, He has brought us this far, and that He will continue to guide us.
Construction resumed in August and it has been incredible to see the foundations laid.
One area we have been looking to make up for the increased costs is in seeking donations of materials from several suppliers for the project. We have been working on this much of the summer alongside the construction company, CPK. We will also be seeking in-kind donations of labor.
Additionally, much like when building a new house, the building will be "empty" when it is finished. Examples of needs for the Ministry Center will include:
Furniture – tables, chairs, desks, etc.
A/V
Security System
Sports equipment – basketball hoops, balls, volleyball nets, etc.
We will be working to secure donations of these items as well to help with the costs. If you know of anyone who might be willing to help, please let us know.
I thank you for your continued prayers for this project. Please pray for myself, our church leadership, and our congregation as we move forward, for us to continue to grow together as a body, and to have wisdom, perseverance and endurance in this race God has set before us. James 1:2-4
Pastor Joe Abraham
From the presentation "Scranton Road Bible Church Master Plan for Expansion"
September 2016
Parallel Partners Architectural Construction
CPK Construction – Chris Kontur
Doty & Miller Architects – Bill Doty